!Spiers.net. ----!>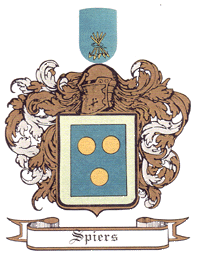 TOBACCO

In 1583 Walter Raleigh, who had sailed from England, arrived at the American continent, at what is now Roanoke Island, he named the country he found Virginia, after his virgin Queen, Elizabeth. James River and James Town which were later settled, were named after King James. Other British voyagers continued to arrive in the succeeding years, at Cape Hatteras, Chesapeake, Cape Cod and other places. The English Crown was keen to find gold in Virginia as had the Spanish in South America, but explorers failed to find any and the English Crown lost interest. In 1607 the British exported silk worms and mulberry trees to Virginia and tried silk production, but it required labour which was in short supply and by the end of the 17th century its production had failed. By 1617 tobacco had been planted in Virginia and that succeeded because it did not require as much labour as silk. It began to be exported in quantity to England and it was taxed. It was not till later that the Scots started to import it into the Clyde in Scotland, in order to beat English taxes and blockades associated with the American War of Independance. Because capital and organisation was needed, ties between traders were close, there were often family ties. Between 1740 and 1749 only 19 Glasgow merchants were involved in the American trade. Between 1740 and 1790 about 163 merchant burgesses in Glasgow were involved in tobacco importation.

John Spiers, an Edinburgh merchant, who married Isabel Tweedie on 20 October 1708, had three sons, John, Alexander and James and six daughters. Alexander Speirs, born 1714, had sailed from Glasgow to Virginia where he owned a tobacco plantation. He married Sarah Carey in Jamestown on 15 November 1746. They had no children. He exported tobacco from Virginia to Glasgow. The largest single tobacco firm before the American War, in which Alexander Speirs had an interest, was Speirs, Bowman and Co. of Glasgow. In 1744 its total capital was £16,200 and in 1773 it had swollen to £152,280. He also became the chief partner of the Glasgow Arms Bank founded in 1752. During the years 1767-75 Alexander Speirs & Co's ship, the Bowman, recorded 16 round voyages between Scotland and Virginia. Other Glasgow merchants traded in tobacco and the richest, amongst them Alexander Speirs, William Cunninghame and John Glassford, collectively became known as the Tobacco Lords. By 1775, the three of them owned over half of the Glasgow tobacco trade, and by 1777 the syndicates controlled by them dealt in eighty per cent of the tobacco export trade. The leading Glasgow tobacco merchants were intimately linked by marriage. Alex returned from Virginia to Glasgow where he had a large house in Virginia Street, Glasgow, built by Buchanan. He secondly married Mary Buchanan of Auchentorlie, daughter of Archibald, on 3 March 1755, they had four sons John,1757 - 1773, Archibald, 1758 - 1832, Alexander, 1759 - 1772, and Peter, 1761 - 1828 and six daughters. He had a warehouse in Dublin, Ireland for textiles and exported to Holland. In 1794 Alexander's son, Archibald, born 10 Feb 1758, married the Hon. Margaret Dundas, daughter of Thomas, Lord Dundas. They were involved in opening up canals in Scotland and England. Archibald had a mansion house at Elderslie, Renfrew, another at Largs, Ayrshire, estate in Sterlingshire and made many other land purchases. The Dundas family have played a prominent role in Scottish history. One of Alexander Speirs' sons, Peter, born 1761, married Martha Harriett daughter of Robert Cunningham Graham of Gartmore, Perth, and owned Culcreuch. This passed on to his son Robert Cunningham Graham Speirs who married Catherine Ann Grant in 1832. Their daughter was Ann Oliphant Speirs who married Sir George Hume in 1858 who assumed the Speirs surname. Archibald's son, Alexander, born 1803, was Lord Lieutenant of Renfrew and a Member of Parliament for Richmond, Yorkshire. In 1836 he married Eliza Stewart Haggart daughter of Thomas Campbell Haggart. Their son, Archibald Alexander, married Lady Anne Pleydell Bouverie in 1867, she was the eldest daughter of Jacob, 6th Earl of Radnor.

Other Glaswegians traded in tobacco and one was Thomas Spiers, see the article on Spiers and Pond. There is no known connection between Thomas Spiers and Alexander Speirs. The population of Glasgow in 1740 was 17,034 and in 1780 it was 42,832; in 1999 it was about 726,000. The Spiers and Speirs surnames are not uncommon in the area so it is guesswork as to whether the families knew each other, but considering the relatively small population of Glasgow in the 1700's and the few traders dealing in tobacco, then the tobacco trade may have been, at least, a business link.

For further information see, The Tobacco Lords, by T.M.Devine, publ. 1975, reprinted 1990, Edinburgh.