!Spiers.net. ----!>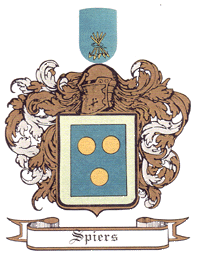 Get your own copy of the Spiers family history
There are a few books available that have the family history.

Gary Spiers' Book

The Descendants of John P. Spiers of Pearl River County

This Book is a 2 volume book that has the almost complete listing of descendants. There aren't that many books left and there will not be another printing. Gary is just asking for the price of printing and shipping.

The book can be purchased by sending $80 to

Jerri Rush
711 North Haugh Avenue
Picayune, Ms. 39466

(601) 798-6961


---


Descendants of Henry Spiers, Pioneer Scotsman (Prince George County, VA)
1744-1979
Compiled by Mary Spiers Kennette
Currently out of Print


---


Spiers, Spiers and More Spiers
Marian Spiers Lane
Gateway Press 1997


The book can be purchased by sending $30 and Orders to:
Marian Spiers Lane
2410 Cranbrook Rd.
Richmond, VA 23229-3006

Library of Congress Catalog Card No. 96-80025




---
Stewart Spiers and the Planemakers of Ayr, by Nigel Lampert.


128 Pages. Softbound.
In producing this work, which is certain to become a model
for future historical monographs of important toolmakers, Australian author
Nigel Lampert has contributed mightily to the range of knowledge not only
about Stewart Spiers and his planemaking enterprise, but also to the broader
subject of toolmaking in the Nineteenth Century. By tracing though historical
records, reviewing every known document, examining every Spiers tool to be
found and following up on each and every clue thus derived, Lampert has
brought to life the story of Stewart Spiers, those who worked with him and
the trials and tribulations they endured. Illustrated with superb black & white
as well as a number of color photographs, maps, catalog illustrations, patent
drawings and geneological charts, Lampert's book is certain to take an
important place among the literature of antique tool collecting.



---


Spiers of Melksham

Graham Edge
Describes the history of the Spiers of Melksham a family run haulage company. 96 pages, well illustrated, Hardback

Price: £15.95


---
Spiers of Melksham Model Lorry
Price: £41.99
---